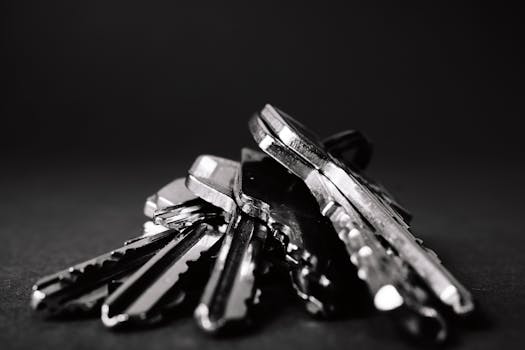 I lost my keys last week. Or maybe I should say I misplaced them. They have a designated drawer in the kitchen and they weren't there. I believe it's an "age thing" though I have to admit that I have a life history of losing things. I guess you might say that I've always been a little forgetful and sometimes not all that keenly focused.
When I was a kid, most everything I lost was critical to my immediate happiness. When you're a kid, your beloved possessions are few and to lose one is usually a big deal. I remember misplacing my favorite marble when I was in the second grade. Admittedly, I can't remember yesterday's lunch but I have a crystal clear memory of losing my light blue cat's eye shooter. My number one prized marble that rode in the right-hand pocket of my bluejeans wherever I went. I was pretty sure that it was hiding somewhere in our front yard. After dividing the yard into grids and walking those grids a dozen times, I finally did what I always did in stressful situations such as this. I asked God to help me. It wasn't a prayer per se...more like a mental request: Dear God, I know you have much more important issues to deal with, but if you have an extra minute or two, would you please help me find my marble. And I promise I'll do a better job keeping up with it.
It always worked. I say "always." And to my recollection, it always did.
I found my prized shooter that day and, as far as I can recall, I did take extra steps to safeguard it until the time that playing marbles became secondary to learning to "walk the dog" on my brand-new, shiny Duncan Imperial.
Back to last week and my vagrant keys. I don't know about you, but trying to find something lost, or misplaced, pretty much dominates my thoughts until it is found. And I don't care to recall the number of times I've donned latex gloves and reallocated bag after bag of kitchen trash. Some fresh and some not so fresh. I'm not sure why that's one of the first places I always look. It just is. But, anyway, guess what? After exhaustive searches throughout the house and along the path from the car to the house and back a few times, it was time to turn to the Finder of All Things Lost once again. So, in the way that has changed very little from the time I was seven, I asked God to help me find my keys. I had no sooner dispersed that little request to the stratosphere when it occurred to me that there might be a good chance that the keys ended up in
a
kitchen drawer but not the
correct
kitchen drawer. I hustled into the house and opened a drawer next to the sink (the tape and scissors drawer to be exact) and voila! There sat the keys.
The biggest difference between God directing the finding of lost things when I was a kid and now as an adult is that God insists on sending a little life lesson along with His assistance in recovering the misplaced item. Sort of a celestial fortune cookie. And this one revealed that God actually enjoys finding lost things, especially when that which needs finding is a whole person. Or a broken person who needs to be whole. I can't even come close to counting the number of times He's found me over the years. Whether I was hiding or had simply lost my way, eventually God showed up with His big flashlight to direct me home. Thank goodness the single stray is just as important as the properly placed ninety-nine.
There's a touch of irony in all of this. I think I've been much more comfortable asking God to find marbles and keys than I have been asking to be found myself. I wonder if that's just me or if that holds true for many. I wonder if many of us are hesitant to ask for help on a large scale. But it doesn't matter. He's there when you need Him and nothing is to small or too large when it comes to finding what is lost. Marbles, keys, or your way. The Finder of All Things Lost is always on duty.
And, you know, when I really get to thinking about it, maybe things and people aren't really lost in the first place. Maybe they've just managed to end up in the wrong drawer.